---
Duration :-
6 Nights / 7 Days
Destinations :-
Delhi - Jaipur - Jaisalmer - Jodhpur - Sawai Madhopur - Chittaurgarh - Udaipur - Bharatpur & Agra - Delhi
---

Day 1 - Wednesday: Delhi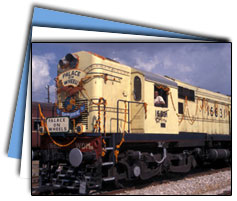 Delhi, the capital of India has rocked in its cradle numerous dynasties and empires, enticed rulers and attracted plunderers over the millennia. The history of Delhi is the abridged history of India. From being the seat of royal power to colonial power and finally the seat of the largest democracy in the world, Delhi preserves an enviable heritage evident in its numerous monuments dotting the city. The Old Fort, Red Fort, Jama Masjid, Qutub Minar, Jantar Mantar, Rashtrapati Bhawan, Raj Ghat, India Gate and Lotus Temple are a few of the tourists attractions of Delhi.

1600 hours: Ceremonial welcome onboard the Palace On Wheels at the Delhi Cantonment Railway Station. 1745 hours: Departure for the regal journey of a lifetime. 1930 hours: Dinner is served onboard.

Day 2 - Thursday: JAIPUR
The gateway to Rajasthan, the 'Pink City' of Jaipur was founded by Maharaja Jai Singh II in the late 17th century. Jaipur has much to offer visitors - everything from a royal legacy of architectural wonders and a wealth of handicrafts to pageants and festivals, and sightseeing. Jaipur is a harmonious blend of traditional lifestyles and modern ways.

0000 hours: Arrive at Jaipur. 0730 hours: Breakfast served onboard. 0830 hours: City sightseeing. 1300 hours: Lunch at the Rambagh Palace Hotel. 1700 hours: Depart for Jaisalmer. 2000 hours: Dinner on board.

Day 3 - Friday: Jaisalmer
Referred to as the western sentinel of India, Jaisalmer is one of the greatest bastion of the world. Situated at the heart of the Thar Desert in Rajasthan, Jaisalmer offers the visitor an enchanting world of fable, colour and history. A citadel that seemed to be willing trapped into a medieval time-wrap, Jaisalmer portrays the love and interest the Rajputs had for the fine arts.

0615 hours: Arrive at Jaisalmer. 0730 hours: Breakfast onboard. 0830 hours: Depart for sightseeing tour of Jaisalmer. 1300 hours: Lunch onboard and rest. 1700 hours: Visit the sand dunes and go on a camel safari. 1930 hours: Have dinner and relish the cultural programme. 2300 hours: Depart for Jodhpur.

Day 4 - Saturday: Jodhpur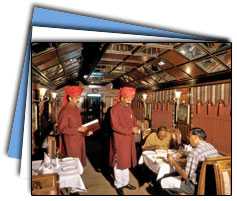 The city of Jodhpur is situated at the edge of the Thar Desert and is famous for its magnificent forts and palaces. Founded by the Rajput chief Rao Jodha in 1459, Jodhpur was the erstwhile capital of the Marwar state and today is the second largest city of Rajasthan. There are about 100 towers in the city, most of which are surrounded by defensive battlements. The imposing Mehrangarh Fort stands majestically overlooking the city.

0730 hours: Breakfast served onboard.
0800 hours: Arrive at Jodhpur.
0830 hours: Depart for local sightseeing.
1300 hours: Lunch at the Umaid Bhawan Palace.
1530 hours: Depart for Sawai Madhopur (Ranthambhore National Park).
2000 hours: Dinner served onboard.

Day 5 - Sunday: Sawai Madhopur - Chittaurgarh
Sawai Madhopur is the town at the entrance of Ranthambhore National Park, which is famous for its lush environs, clear lakes, meandering rivers and various wild species like the royal Bengal tiger.

Chittaurgarh is India's most valorous fort lingering with its history and unending passion of saga, chivalry and romance. Built in the 7th century, the Chittaurgarh Fort was once adorned with beautiful palaces within its sprawling ramparts, but few survived the perpetual onslaughts of invaders.

0400 hours: Arrive at Sawai Madhopur.
0630 hours: Breakfast onboard.
0700 hours: Visit the Ranthambhore National Park
1100 hours: Depart for Chittaurgarh.
1300 hours: Lunch served onboard.
1530 hours: Arrive at Chittaurgarh.
1600 hours: Depart for local sightseeing.
2000 hours: Depart for Udaipur and dinner onboard.

Day 6 - Monday: Udaipur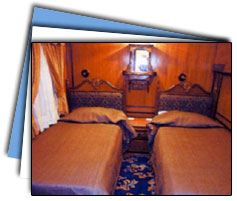 Poetically referred to as the 'City of Lakes', Udaipur, was founded in the mid-16th century by Maharana Udai Singhji. Situated by the Lake Pichola, Udaipur been an inspiration for poets, painters and writers and is famous for its palaces, lake, museums, temples and gardens. The Lake Palace is the major attraction of the city.

0645 hours: Arrive at Udaipur. Breakfast served onboard.
0730 hours: Depart for sightseeing of the one of the most romantic cities in the world.
1230 hours: Lunch at the mystical Lake Palace Hotel.
2000 hours: Depart for Bharatpur. Dinner served onboard.

Day 7 - Tuesday: Bharatpur & Agra
Bharatpur is the home of the world famous bird sanctuary - Keoladeo Ghana National Park, also know as Bharatpur Bird Sanctuary. An ornithologist's paradise, Bharatpur is home to an astonishing range of exotic flora and fauna.

0600 hours: Arrive at Bharatpur and visit Keoladeo Ghana Bird Sanctuary.
0830 hours: Breakfast at the Bharatpur Forest Lodge.

After visiting the Bharatpur bird sanctuary, travel to Fatehpur Sikri (22 kms/14 miles), the red-sandstone city build by Mughal Emperor Akbar, by air-conditioned coach.

The grand finale of this unique journey is definitely Agra. Situated by the sacred River Yamuna, Agra is the erstwhile bastion of the mighty Mughal Empire and home to the mesmerising Taj Mahal - a poetry etched in white marble and one of the seven wonders of the world. Agra also presents some of the marvels of Mughal architectural brilliance.

1030 hours: You will be driven to Fatehpur Sikri
1300 hours: Lunch at the Mughal Sheraton Hotel / onboard the train
1500 hours: Sightseeing tour of Agra 2000 hours: Depart for Delhi and dinner onboard

Day 8 - Wednesday: Delhi
Arrive as early as 0730 hrs in Delhi Cantonment Railway Station. After farewell breakfast onboard, its back to reality with only royal memories to cherish for a lifetime.




Palace on Wheels, Train Holidays Reservation Form