---
Duration :-
7 Nights / 8 Days
Destinations :-
Resham Bhawan - Ganpatiphule - Ratnagiri - Sindhudurg - Tarkarli - Sawantwadi - Goa - Kolhapur - Pune - Aurangabad - Nasik - Mumbai
---
Day 01 : Board Deccan Odyssey Train :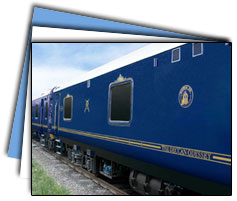 By 1500 hrs self report at Resham Bhawan,Veer Nariman Road (Near Churchgate,Mumbai) for check-in formalities.Transferred to CST World Heritage site to Board deccan Odyssey Luxury Train Tour.Depart by 1630 hrs.Dinner on board.
Day 02 : Thurs: Backwaters, Ganpatiphule beach, Ratnagiri :
After early breakfast proceed from Bhoke Station to Rai Jetty to enjoy backwaters boat cruise & cultural program through Western Ghats.Later drive to Ganpatiphule beach for outdoors lunch,optional enjoy sea sports activities. Afternoon visit ancient sea side temple dedicated to Hindu Elephant God-Lord Ganesha. Proceed to visit late 19th century village home of famous Indian freedom fighter Bal Gangadhar Tilak. By 1700 hrs arrive at Ratnagiri Railway Station to board the train & depart.Dinner on board.
Day 03 : Fri: Sindhudurg, Tarkarli Beach, Sawantwadi :
After early breakfast drive from Sindhudurg Station to Malvan Jetty & visit late 17th century Sindhudurg Sea Fort built by famous warrior king Shivaji Maharaj.
Later drive to Tarkarli Beach to enjoy outdoors lunch & optionial swim.
After brief rest,enjoy backwaters cruise to Walaval jetty.
Drive to Sawantwadi Shilpgram & experience the local artisans & handscraftmen at work.Cooking demonstration of regional delicacies & enjoy Cultural show.
Reach Sawantwadi Ralway Station by 1900 hrs & board the train & depart.Dinner on board.
Day 04 : Sat: Goa:
After early breakfast drive from Karmali Railway Station to visit World Heritage Site of 16th century Portugese Old Goa churches.Later drive to Panjim town & visit latin quarters of Fontanhas.
For lunch drive down to South Goa Luxury Beach Resort & time free for optional adventure sea sports.
Arrive by 1645 hrs at Madgoan Railway Station to board The deccan Odyssey & depart.Dinner on board.
Day 05 : Sun: Kolhapur & Pune:
After breakfast proceed from Kolhapur Station to visit Maharaja Palaces (both old & new) & temples dedicated Hindu Goddess of Wealth-Mahalaxmi; & Hindu Goddess of Power-Mata Bhavani.
Visit handicrafts stalls & enjoy cultural show.
Return to Kolhapur Station by 1145 hrs to board the Train & Depart.Lunch on board & afternoon at leisure.
Evening 1930 hrs arrive at Pune Railway Station & optional visit to Raja Kelkar cultural museum. Return to Pune Railway Station by 2115 hrs & depart. Late Dinner on board.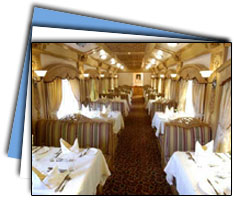 Day 06 : Mon: Aurangabad:
After early breakfast drive from Aurangabad Station to 14th century Daulatabad (city of fortune) hill Fort.Later excursion to World Heritage site of 9th century Cave temples of Ellora. Drive back to Aurangabad Hotel for lunch.
Afternoon visit late 17th century Bibi-ka-Makbara ,the so called "poor man's Taj Mahal" & time free for shopping.
Drive back to Aurangabad Station by 1715 hrs & depart. Dinner on board.
Day 07 : Tue: Ajanta & Nasik:
After very early breakfast excursion from Jalgoan Railway Station to World Heritage Site of Ajanta Buddhist Cave frescoes dating back to 2nd century BC.Return by 1245 hrs to Jalgaon Station & depart. Lunch on board.Afternoon at leisure.
Arrive at Nasik Station by 1700 hrs & proceed for optional sightseeing tour of 18th century Hindu temples & enjoy oil-lamp aarti on of Holy Narmada river(revered as Ganges of the South). Return to Nasik Station by 2030 hrs & farewell dinner on board.
Day 08 : Wed: Mumbai arrival:
The Deccan Odyssey Luxury Train tours arrive back at CST Mumbai Station by 0730 hrs & you have option to checkout by 0800 hrs after early breakfast. Tour ends.




Deccan Odyssey Tour Package, Train Holidays Reservation Form